Dri-Fit Contrast Cool-T voor kids.
Deze Dri-Fit kids Cool-T zijn mooie sportieve shirts voor kinderen om fijn in te sporten of te spelen. Op de schouder zit een mooie contrast kleur waardoor het shirt ook goed te combineren is met een dagelijkse kledingstijl. Dri-Fit zorgt er voor dat eventuele transpiratie snel kan worden opgenomen en verdampen aan de oppervlakte waardoor je droog en koel kan blijven bewegen. Het UPF 30+ UV protection label is ontwikkeld om schadelijke UV straling voor 96,7% tegen te houden. Het shirt is te bestellen voor kinderen vanaf XS- 3/4 jaar tot XL-12/13 jaar.
Wilt u het shirt laten bedrukken met een naam of nummer ? Neem dan contact met ons op via onze contact pagina.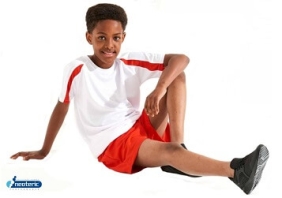 Artikel
1
tot
9
(van de
9
artikelen).
Resultaat:
1
Artikel
1
tot
9
(van de
9
artikelen).
Resultaat:
1